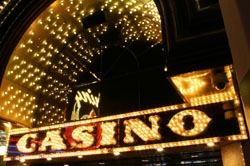 Las Vegas is the perfect place to host the WSOP every year. When you are not sitting at the poker tables, there are thousands of different things to do. While you may have first come to the city for the poker, you will definitely be coming back for the food, the nightlife and the live shows!
The main goal of playing in the WSOP is to win one of the largest and most prestigious poker tournaments in the world. That is the goal of everyone who plays. They want fame, fortune and everything that comes along with a main event win. But even if you don't succeed in winning the tournament, all it not lost. There is no such thing as a bad day in Las Vegas! There are poker games always taking place, so if you didn't get enough poker playing in the Main Event, you can always find more. But most players who get knocked out like to see some of the other offerings this great city provides.
One of the main attractions of Vegas is all the live shows that take place there. Las Vegas is home to some of the most famous musicals in the world, and many of the most popular touring shows make stops frequently in Las Vegas. You can always check out the ever-popular Blue Man Group, or you can stick to the traditional live shows like Cirque Du Soleil, which has called Las Vegas home for many years. But if those kinds of shows aren't your thing, there are always comedians, magicians, and any kind of entertainer you can think of that perform shows on the Las Vegas strip! Fighting is also quite popular, with title boxing matches and UFC events being held there quite frequently.
The food is another reason why this city is so great. The awful buffet food of the past has been replaced with world-class restaurants and cafes that offer any type of food you can think of. French, Italian, Asian and American food is all available in fine dining establishments all over the city. You will not be disappointed with the food in Las Vegas, that's for sure…
The casinos in Las Vegas offer a lot more than just gambling too. They have incredible facilities, so if you want to hang out by the pool or play golf, you can do that quite easily. If bars and nightclubs are your thing, you will definitely be happy with what this city has to offer. Las Vegas is the party capital of the world, and some of the best nightclubs around are located right on the strip. Some of them can get quite costly, but the whole experience really is worth it. You will see things in Vegas that you will not see anywhere else in the world. When you tell your friends about it back home, they will definitely be jealous.
There are many attractions outside of Vegas as well. You can take a tour by helicopter to the Grand Canyon, or you can take a tour of the Hoover dam and the surrounding areas. Whatever your interests are, you will be able to find something in to keep you entertained. Las Vegas is so much more than just poker.