At the apex of the gambling boom in Atlantic City, this East Coast enclave generated approximately $5.2 billion from land-based gambling operations. New Jersey and its iconic Atlantic City casinos peaked at 12 luxury establishments in the glory years but dropped to 7 by 2016. The performance of the Garden State's casino industry has been marked by multiple years of robust growth, followed by successive years of declines.

These cyclical patterns have recently displayed bullish tendencies, and it's thanks to none other than the rapid growth of online casino and online poker in the state. Consider the recent performance of New Jersey casinos from 1978 through 2006. Gaming revenues began at $134,073 back in 1978 and topped out at $5.166 billion in 2006. Gaming revenues increased in every year over that 29-year spell, except for 2001 where marginal declines took place year on year.

Between 2006 and 2016, significant changes have taken place. Gaming revenue in 2006 was at its zenith with $5,166,566,000. Since then, gaming revenues declined year on year until 2015 where they increased marginally. By 2016, gaming revenues were recorded at $2,406,012,000. The rollout of online casino and online poker in New Jersey was slow to begin with. This was largely the result of geolocation tracking software glitches, a poorly supported payments infrastructure, and lack of public knowledge about the legality of online gambling.

After a concerted effort to introduce New Jersey players to the online gaming world, growth started taking place. Online gaming got its start in November 2013, and since then it has been one of the most robust industries in the state, with strong year on year of gains for online casinos and their land-based partners. In-depth analysis from the University of Las Vegas confirms New Jersey's stellar turnaround.
RECENT PERFORMANCE OF THE NJ ONLINE CASINO INDUSTRY
The American Gaming Association (AGA) conducted a review of New Jersey's gaming sector in 2015. At the time, there were declines in gaming revenue and direct gaming tax, owing to strong competition from neighboring states such as Maryland, Delaware, and Pennsylvania. Nonetheless, statistics reflected that the number of casino employees was 23,615, with gross casino gaming revenues of $2.563 billion and gaming tax revenue of $237.09 million.

New Jersey currently levies a state gaming tax of 8% on Gross Gaming Revenue (GGR) as well as community investment obligations of 1.25% of GGR. Much of the gambling revenue in New Jersey goes towards community upliftment and development initiatives. Atlantic City in particular has benefited from hundreds of millions of dollars in housing development, a university campus, community colleges, culinary arts schools and more. New Jersey Transit receives a total of 8.5% of all casino revenues every year, and many senior care programs are subsidized through gaming revenues.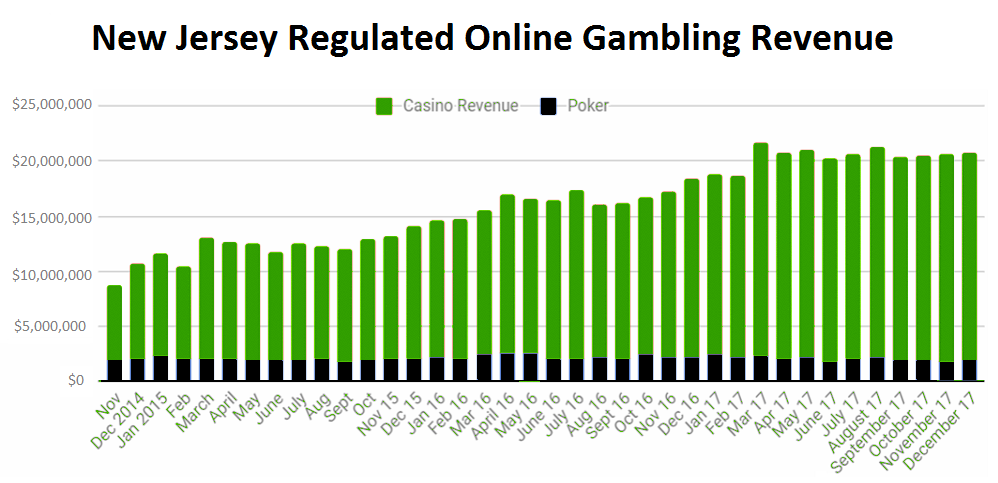 But it's the online casino industry that has attracted the most attention from industry aficionados in recent years. From $196 million in gaming revenue in 2016 to $245 million in gaming revenues in 2017, the 25% increase has caught everyone by surprise. All online gaming activity is fully licensed and regulated through the NJ DGE (Division of Gaming Enforcement). Current trends since March 2017 indicate that online gambling revenue has exceeded $20 million per month in New Jersey for 9 successive months, and pundits expect these figures to increase as 2018 progresses.
THE PERFORMANCE OF ONLINE CASINOS SINCE NOVEMBER 2013
There are currently 9 operators in the Garden State, including the following:
Tropicana/Virgin – with total gaming win of $135,679,326 since inception
Resorts AC – with total gaming win of $91,273,724 since inception
Golden Nugget/Betfair – with total gaming win of $160,445,694 since inception
Borgata/Party New Jersey – with total gaming win of $189,263,412 since inception
Caesars/Harrah's/888casino – with total gaming win of $149,526,592 since inception
Online casino revenue trumps online poker revenue by a factor of 6 with $615,577,466 versus $104,364,092. This is in line with monthly performance figures which indicate that online poker makes up approximately 15% – 20% of all online gaming revenue in the state.
WHAT FACTORS COULD IMPACT ONLINE CASINO GGR IN 2018?
Many of the leading online casinos in New Jersey are cautiously eyeing the situation with Atlantic City casinos to determine how their bottom line will be impacted. Two major casinos will open their doors by summer 2018, including Ocean Resort Casino and Hard Rock Atlantic City. This will raise the number of land-based casinos from 7 to 9. The established players like 888casino New Jersey and its partner Caesars have cemented their place with a 21.1% market share of all online gaming activity in New Jersey.

The entry of new competitors into a tight space will result in poaching from the established online casinos, but these established operators maintain dominance by dint of their experience and roots in the community. For 2017, all online casinos and online poker rooms brought in a fraction under $250 million, a virtual doubling of revenues since 2014. For Caesars, WSOP, Harrah's, and 888, there was a 9.56% month on month increase in December 2017, and a 3.77% year on year increase. This is better than the performance of Resorts AC and Tropicana.
WHERE TO NEXT FOR THE ATLANTIC CITY GAMBLING INDUSTRY?
Recall that Atlantic City featured 12 bricks and mortar casinos at its peak. Experts are still evaluating the optimal number of land-based casinos, since they don't want to over saturate the market, especially now that Pennsylvania has legalized online gambling. Ocean Resort Casino has chosen GAN as its preferred online gambling partner, while there is no word yet about which online gaming provider Hard Rock Atlantic City will choose. While no specific dates are available, the NJ DGE has confirmed that these land-based casinos have made applications for online casino operations.

Currently, SCOTUS is deliberating about an application to overturn a ban on sports betting. New Jersey has petitioned the Supreme Court to allow sports betting. If the judges rule in favor of New Jersey, this will lead to a groundswell of support for all forms of online gambling activity in New Jersey, and throughout the United States. A decision is expected by the summer. For now, the casino industry is relying on the online casinos and online poker rooms to provide the much-needed momentum to keep things going.