South Korea is a beacon of hope and democracy in Asia-Pacific; a bulwark against the bellicose posturing of North Korea and its authoritarian dictatorship. At a time of rising tensions in the region, Paradise City in South Korea is really feeling the heat. This delightful entertainment enclave is within a stone's throw of Incheon International Airport in Seoul. But wargames between South Korea and North Korea are ratcheting up, and this does not bode well for business activity, or to be more specific: casino activity.

Paradise City was expressly designed to attract high rollers from China as its main source of clientele. Unfortunately, the April 20 opening of Paradise City was marred by ballistic missile tests by South Korea as it conducts tactical and strategic operations with the United States and other partners as a warning to North Korea. The Chinese government is having none of it. It slapped a temporary travel ban on Chinese citizens to South Korea, and this has had a negative effect on proceedings.

Paradise City is the brainchild of Sega Sammy holdings and Paradise Company Limited of South Korea. The sprawling resort cost an estimated $1.12 billion, and is heavily reliant on Chinese visitors for generating revenues. Recall that Beijing began cracking down on illicit gambling activity in Macau, the most successful gambling enclave in the world, but that seems to have abated for now. The high rollers in China are part of a burgeoning population who enjoy high-stakes gambling at illustrious casino resorts. The lavish complex is 204 miles away from the airport, alongside the Yellow Sea.

Paradise City had this to say about the Chinese boycott: 'There are concerns about the Chinese market… We don't expect the missile issue to continue in the long term.'

For South Koreans thinking about entering Paradise City for playing – that's a no-no. The official position on gambling in South Korea is that it is only possible at remote regions such as the Kangwon Land Casino & Hotel, but otherwise no gambling is allowed whatsoever for South Koreans. The reason Paradise City was established in the first place was to capture the overflow from Macau. Any gambling ban by the Chinese government on its special administrative region is good news for Paradise City.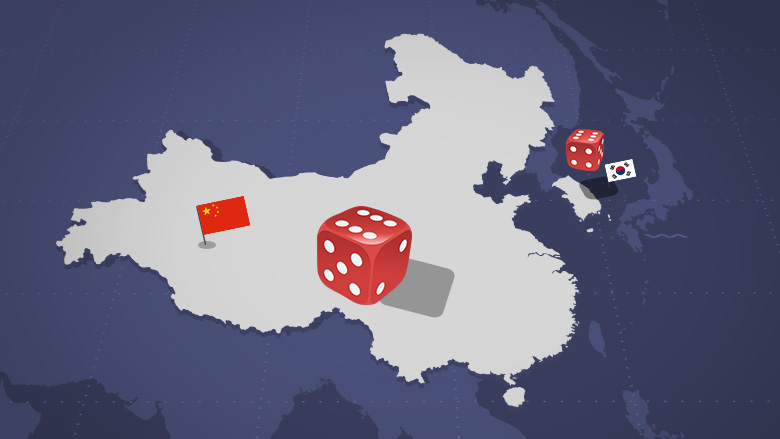 To counter the Chinese travel ban to South Korea, the operators of Paradise City are now appealing to clientele across southeast Asia. Recent actions by China are an anomaly; China has been rather friendly to South Korea for 2 years +. Public officials in China were discouraged from flaunting their wealth, and prevented from gambling at Macau. One of the leading Asian investment brokerages, Dongbu Securities alluded to the high reliance of Asian casinos on Chinese clientele.

In recent weeks, tensions between North Korea and the United States have boiled over. North Korea attempted a ballistic missile launch, failing dismally in the process. Now, South Korea and its staunch ally the US are planning a series of military drills to deter North Korean aggression. China which has significant clout in the region is steadfastly against ramping up of military maneuvers and has voiced its concerns accordingly.

China is responsible for 80% of North Korea's trading activity, and the recent travel ban to South Korea is an example of China flexing its muscle to hurt South Korea for its missile testing. China currently provides for the bulk of North Korea's energy, food and technical requirements. Without China, North Korea would be slumbering in backward isolation. The Chinese government issued a 7-point directive to end all tours to South Korea. But the official position of the Chinese government is a lot blunter: A full boycott of South Korea. Year on year, the number of Chinese visitors to South Korea plunged 39% in March 2017, after rising by 8 percentage points in January and February 2017.

But for Paradise City, it has been a lackluster opening week with the Chinese travel ban. Fortunately, there is hope in the form of players from Singapore, Japan, Hong Kong, and other regions flocking to South Korea to enjoy world-class gambling. The Japanese, who also open the gates to casino in their land a few months earlier, have vowed to stand alongside South Korea and the United States against any missile threats from North Korea. They have assured their allies that they will shoot down any missiles from North Korea without hesitation.

The rising tensions in the region tend to follow a cyclical pattern; North Korea continually tests the resolve of the US as a show of defiance. Unfortunately, North Korea is the world's most belligerent nuclear power, and it is run by a kamikaze-style dictatorship with itchy trigger fingers. Paradise City will have to tread these waters carefully if it is to attract vacationers for business or leisure purposes. Fortunately, it offers more than gambling entertainment, with video games, bowling, swimming pools and other entertainment facilities. The billion-dollar resort is marketing its hotels and convention halls to South Korean visitors to mitigate the losses suffered by the Chinese travel ban to South Korea. Casino revenues will be bolstered by special provisions for junkets which comprise up to 10% of early casino revenues. The share price of Paradise City is highly sensitive to the actions of the Chinese government vis-à-vis travel and tourism to South Korea. The fate of South Korea's first casino clearly rests in China's hands.