AWARDS
Best Betting and Gaming Company
Leisure Report Awards 2007 & 2008
888.com was named "Best Betting and Gaming Company" for the second year running by Leisure Report. The prestigious Leisure Report Awards are given to companies whose vision, originality and overall performance demonstrate excellence and enrich the industry as a whole.
Operator of the Year
Leisure Report Awards 2008
888.com is particularly proud to be voted Leisure Report's Operator of the Year 2008, beating out many outstanding gaming and leisure oriented brands. The award recognises 888's long-term commitment to expand from its gaming base into the much broader leisure sector. Leisure Report is the definitive news and intelligence service for the fast-moving leisure industry in the UK and Europe.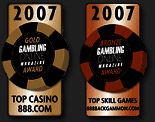 Gold Readers Choice Award for TOP CASINO
The Gambling Online Magazine Awards 2007
888.com proved its enduring appeal at the prestigious GOM Awards in 2007, snatching the Gold Reader's Choice Award for Top Casino. In the online gaming world, this is like winning an Oscar.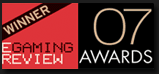 Casino of the Year
Egaming Awards 2007
888.com scored a hat-trick at the 2007 eGaming awards, beating off stiff competition and winning Best Online Casino for the third year in a row, thanks to "technical excellence and reaching for the highest levels of performance".